Summertime  is always a great time for us to learn together. During our traditional year the girls each have their own, unique course of study, but summer provides ample opportunities for unit studies and group work. This summer we've had a chance to spend lots of time with family and the girls have especially enjoyed extra time with their cousins! My sister-in-law and her husband had a chance to getaway while we had a blast with their 5 kids. They are a fun group and when I told them we were going to spend a little time learning about Florida before we traveled together to see their grandparents they were game. I was excited to introduce both my girls and these five kiddos to the Make-a-State Activity, a part of the Activity-Paks series from Home School in the Woods.
When they realized this was "school" my girls were excited, but their cousins weren't quite sure what to think. My nieces and nephews attend an amazing Private Christian School in their hometown and while they know a lot about homeschooling, they haven't had the chance to try it themselves. While they were a little uncertain, I had every confidence they would love this project because we have loved every single experience we have had with Home School in the Woods!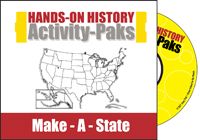 As I mentioned above, we chose to work with Florida. The downloadable files are so beautifully crafted, but incredibly simple to print and use. The directions for Make-a-State Activity are clearly written so that anyone should be able to follow them. I would even be comfortable having a high school student use this curriculum to teach their younger siblings. Because we had been camping just before all of the kids came, I hadn't had a chance to print ahead of time like I normally do. This was actually really a good thing for me because I saw first-hand just how print-and-go these projects really are! I typically prepare days in advance for things because that is how I feel comfortable. What I learned with this curriculum is I don't have to do that if I don't have time!
I had the oldest two girl with the younger 4, 2 for each of them. The middle two girls worked together. I got them all set and and handed each pair the information page for the state of Florida. The youngest kids were 5 and 7 and may have had some trouble reading this on their own, but with the help of an older cousin/sibling there wasn't any trouble at all. Parents can easily step in and help younger kids or those who struggle with reading for this portion without taking away from the learning experience in any way. I then assigned each of the three groups different portions to read and discover. After finding out information like the state capital, population, destinations to visit, and agriculture they used the printable pages included to record, draw, and color all about what they learned.
After everyone was done the kids took turns sharing with each other what they learned and then attached them to our large poster board. This is intended to be a file folder project, which I would absolutely do if each of the kids were making their own. Because we were creating a group project I chose a slightly different way to feature their learning and it worked beautifully! Adapting this project in this very small way did not take away from their experience at all.
So now I know you are wondering how they all felt about it! My girls enjoyed it as always. They even asked if were going to get to do more states after our vacation to Florida. I assured them we were as well as spend some more time playing the Name That State game! I wasn't surprised by their enthusiasm or that they enjoyed working on this even while they consider themselves "on vacation".
So what about my nieces and nephews? Their response was to tell me they were going to ask their mom if they could be homeschooled! There isn't much of a better recommendation than that! Some of their specific comments were, "I didn't know learning could be fun like this!" and, "Do you guys get to do stuff like this all the time???"
The kids' final project!
 They also were so funny after we were done. One of the younger kids asked how long we were working. It was about 90 minutes or so for us to research, color, write, and share. He could not believe they had been working that steadily for that long! His response to that was, "Really??? I thought it was only 10 minutes!" To me, this is the indicator of engaging learning. When a child becomes so absorbed in what they are studying they lose track of time, we have a winner.
You may already be familiar with Home School in the Woods, but make sure you take some time to see some of the new learning opportunities they have available! In addition to the incredible Activity-Paks there are also amazing titles in the the Lap-Paks series and a wonderful and unique way to look at history with the Timeline Trio. This is also a great opportunity to let kids choose their own areas of study.
One new feature found at Home School in the Woods is the opportunity to purchase several of the individual activities found in the Paks alacarte! I absolutely love this because this will give me the opportunity to supplement our regular curriculum with projects as we need them. I'm so excited to explore this option further!
Don't forget to check out what my Crewmates have to say!