Our household is always trying to find a balance with technology. My husband and I enjoy playing games in the evenings as we wind down and we allow our girls a limited amount of time each day just for fun on their tablets. We live in a technological society and we feel it is beneficial for our kids to learn to navigate some of this now while they are young. We do place very strict parameters on the games they play and are more restrictive in this area than most families we know. When I heard about Planet 316 I was intrigued because of the inclusion of Bible verses in their app Daily Bible Jigsaw.  I enjoy playing this game in the evenings. I'm very busy during the day between homeschool, the English class I teach, and teaching piano lessons. I feel like I have to engage and interact constantly throughout the day, so being the introvert that I am having a little time to play gentle games that are not intense and don't involve a lot of strategy. I enjoy puzzle type games but had never tried a puzzle building app. This was a lot of fun for me personally as I enjoy building puzzles in real life.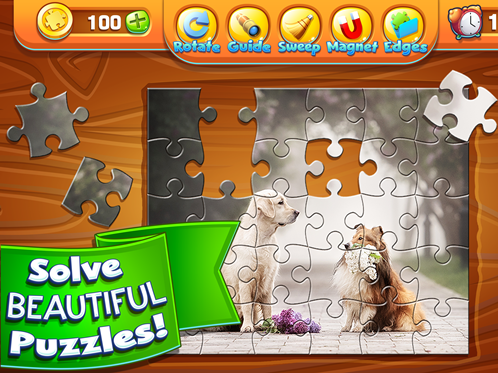 Daily Bible Jigsaw  is available in multiple formats. You can find this app via Facebook, the App Store, or Google Play. I appreciate it when apps are available in different places because I use an iPad and my girls use Android platform tablets. For this review we all used  the iPad. You simply drag pieces together in order to have them click into place. Pieces are easily rotated by tapping. Once you get some pieces connected you also can rotate these connected pieces if you need. There are also extra helps you can use at the top of the screen which cost coins from within the app.  
 Everyday there is a new puzzle available. You can go back and play previous puzzles from each month, but this does cost you puzzle coins. You can earn these coins throughout completion of the puzzle, by watching advertisements for other apps, or through payment. (I would caution allowing your children to earn the coins through watching advertisements without supervision.) You can use the coins to buy helps during the puzzle play, but this was not something I cared to do. I like the challenge of figuring it out on my own. I preferred to use the coins for completing previous puzzles.  
 My girls also enjoyed playing! The fun of this game is the challenge of completing the puzzles. Once you complete the puzzles you are rewarded with a beautiful picture and an encouraging verse from Scripture. The inclusion of encouraging Scripture is a unique aspect for this app. It is rare to find an app of any sort, short of Bible study helps, which includes anything Bible related. After enjoying this app I'm intrigued by what other games Planet 316 has created.  Here is an excellent view of what this app has to offer!   Don't forget to see what my Crewmates have to say!