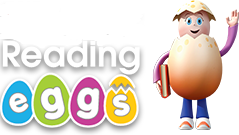 When I first learned of Reading Eggs a few years ago my girls were already strong readers. I still took a look at the website and was impressed with what I saw. I've since recommend  the program to many friends and they have raved about it! I was very excited to learn that there was much more to Reading Eggs than when I first looked at it many years ago. Both Beth (10) and Grace (8) had the chance to use Reading Eggspress and absolutely love it! 
You can get a 4 month free-trial with Reading Eggs by clicking here!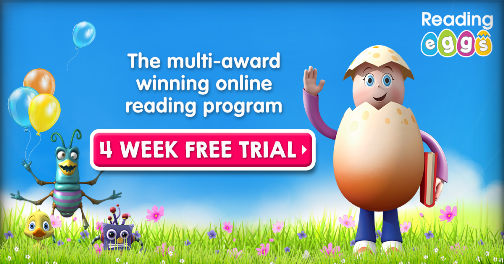 There is so much to explore on the Reading Eggs website. The most exciting portion is the latest update for homeschoolers. Within this section is full, 36-week lesson plans for kindergarten, first, and second grades. They are very thorough and cover all four core subjects: language arts, mathematics, science, and social studies. The material needed within the various disciplines are available on the website within the library and included with the subscription. If you are looking for an online curriculum for your younger students I highly recommend checking this out. 
These smiles can tell you just how much my girls loved using Reading Eggs. It is the first thing they ask to use each day. Honestly, I don't think they realize that it is a learning program. They really look at it as a fun game. Because of this I used it as a reward for completing the rest of their work. They have never worked quite so fast!  After completing the assigned reading passage or lesson they would take assessments to see how well they recalled the information they were taught. I love that I can check their progress and see how well they are progressing. I can see their assessment scores and check to make sure they are moving forward in their learning. I have been happy to see them progress throughout their time using it so far. 
Beth was excited to show me her Avatar (personalized character). She loved that it had a little panda purse because that is her favorite animal! Another aspect which is really nice is printable worksheets for each lesson. These can be used as supplements to the lessons and can be very valuable for families using this as their main reading program. I found them to be very well done and thorough. I personally like to have options which will allow off-screen assessment and practice so this is excellent for those who like to have that ability.  
 Even when they weren't using Reading Eggs themselves these two were often sitting side-by-side watching the other one work! Rose (12) was even intrigued by the fun graphics and style of learning.   The only part I did not care for was teaching slang as vocabulary. For instance, in one story the word "sick" is used and they were supposed to identify the definition based on context. I absolutely love the fact that it teaches inference. I am not thrilled that this is taught by using slang. I personally feel there is better use of instructional time than this.   While my girls clearly enjoyed it and I do think the reading comprehension assessments are highly useful, this would be best suited for families with younger children or less advanced readers. I also know many who love to have their children's learning online for a variety of reasons, but that is typically not my preference. I will absolutely recommend this to families looking for online learning options because although it is not my personal preference for the majority of my girls' learning, this is one of the best and full programs with which I've had the opportunity to work.   Take a look at what my Crewmates have to say!