When your grandfather is a professor who teaches Greek in seminary, it may mean you have a keen interest to know more about biblical languages at a young age. My dad has been teaching Greek for years so it did not surprise me when Rose came home having learned how to spell her name in Greek letters when she was in 2nd grade. She began writing her name this way on everything she created and for her science class as well! While she has had a keen interest in learning Greek, we have not had an opportunity to pursue it yet. She was very excited when our package with Hey, Andrew! Teach Me Some Greek! – Level 3 from Greek 'n' Stuff arrived!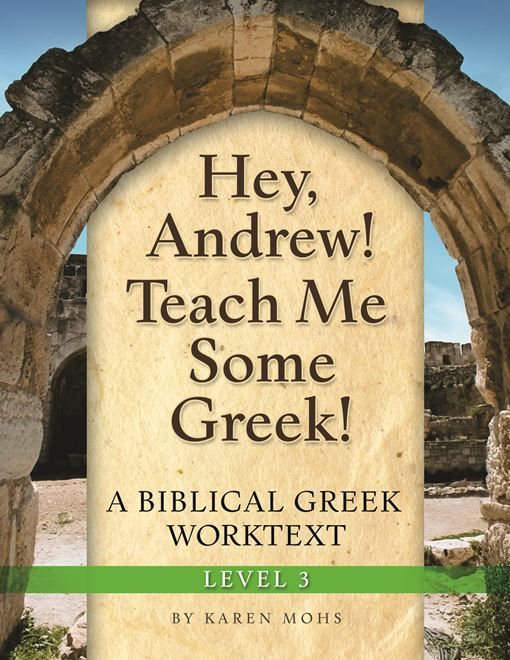 I have heard wonderful things about this curriculum and when I mentioned it to my dad he was already familiar with it. I was surprised to learn that my daughter would start in level 3, but this is because the first two levels in the series are for elementary aged students. Since Rose is in 7th grade now, this was the best fit for her.  
I love that the first lessons focus on Greek alphabet recognition, writing the letters, and memorizing their pronunciation. The pronunciation CD is quite helpful for beginning students and parents who do not have a base knowledge. While 1 page a day is the intended use, it is strongly encouraged to not move faster than mastery will allow. This was very important for Rose because this was her first formal instruction in biblical Greek. As she filled the practice lines with the Greek letter she was studying, Rose would also pronounce the letter to aid in memorization. This worked well for her and she found learning the alphabet less tedious. For students who have already completed the first two levels or have previously learned the Greek alphabet the beginning lessons would act as review. 
Rose completed 1-2 pages a day when she used studied. I really liked that the memorization of the alphabet included visual, tactile, and auditory components. I use this type of method for note memorization while teaching music and I think it is highly valuable. She did feel a little awkward speaking out loud while writing I think, but quickly noted the benefits of learning the letters this way.
I also very much appreciated the handwriting lines given for writing. This provided clear guidelines for how to correctly write the letter. Three lines of writing space were adequate for this activity. 
 Each lesson is expected to last about a week, but the first two lessons took her a little longer than I expected. Because she was learning the letters for the first time and it was important to master them fairly well, we took our time. I was excited to see her move into the next lessons where she began mastering specific Greek words. Some of the things I love about these lessons is that there is explanation in the student book for pronunciation and a place to draw a picture. My girl loves art and this is a wonderful component for her and her learning style.  
The teacher's guide is an incredibly helpful tool. My dad is an expert in Greek, but I am not! I have never taken any classes or studied Greek in any way. Still, I feel completely confident in guiding Rose through this course because of the teaching guide. In addition to teaching tips and explanations, it is a full answer key with even the handwriting portions completed! I personally am intrigued for myself and am considering getting my own guide to learn biblical Greek.  
 The last portion which I absolutely love is the inclusion of flash cards and copywork from the Greek New Testament. These are two components which will help ensure mastery of the language. The flash cards are available in the back of the workbook, but may also be purchased separately for convenience. For the copywork you will need your own Greek interlinear Bible, but this is easily obtained whether in a digital format or hard-copy.  We are very pleased with this course and Rose is eager to continue as we will soon begin our traditional school-year. I'm excited for her to learn biblical Greek as a foreign language for her own benefit as she continues to study God's Word on her own. 
Take a look at what my Crewmates have to say!