The shatterer has come up against you. Man the ramparts; watch the road; gird your loins; collect all your strength. 
Nahum 2:1
There are times when a novel is entertaining and pleasurable. It allows an escape from reality into a world of happy endings. Other times a novel moves you deeply, speaks into your soul, and drives you. Maggie Bright is the latter. This novel of the evacuation of troops at Dunkirk is more than just historical fiction. It is a deeply moving encounter with characters endearing. I can't remember the last time a story moved me to tears the way this one did.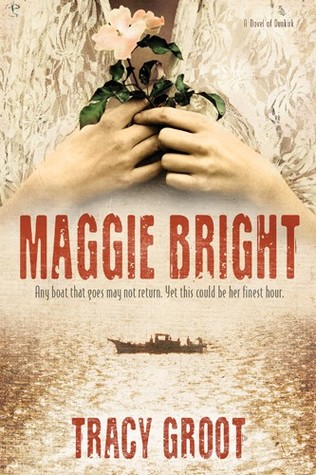 Tracy Groot is a new author to me and I am very excited to read more from her. The setting is 1940, England. Hitler's campaign to control all of Europe is in full swing and the English troops are in trouble, attempting to evacuate back to England. Back on the homefront rumors of retreat and disaster circulate although no formal announcement has been made. As these larger picture events unfold, a young woman is suddenly caught in the middle of a spy mission aimed at revealing the true horrors Hitler and his Nazi regime are spreading with the growth of their evil empire. America has yet to enter the war and hope is beginning to fade. If only the horrible truth can reach the shores of the United States there is hope that England will not be left alone as one-by-one the countries of Europe fall. 
This beautifully written story of Dunkirk pulled me in with the first chapter. The dual story-line showing the embattled front-line action and the home-front of England gives a very unique picture of the all encompassing nature of World War II. This war was more than just the soldiers going away to a foreign land to keep them at bay from their own country. All of England was affected as Hitler's troops edged closer and closer to the United Kingdom. 
It did take some time for me to sort out who all the characters were within the first few chapters, but it was worth it. Each one progressed the story along in a different way. I love the 3rd Person point of view which allows us insights into a variety of characters' thoughts. While spiritual themes run throughout this book, it never feels preachy and explores the way those who do not have a personal relationship with Christ react to God at times of crisis. Many of the characters began to seek God for the first time and I appreciated that this was not a fast journey, but genuine and realistic seeking. 
Although I was left wanting to know more at the end, I was also left with an urgency towards prayer. Running throughout the book is the theme of searching to understand what prayer is, how prayer works, and why we do it. I loved the way this was handled as several characters sought to express their perspective on prayer. God's answer to a nation who stopped to pray corporately is seen in the success of the Dunkirk evacuation. Though many lives were lost, thousands upon thousands more than were expected were saved. Many civilians showed unprecedented courage as they sought to bring their soldiers home. The verse quoted above expresses how those in England viewed this time during the war. They sought God and realized they needed divine intervention in order to overcome the evil one who sought to destroy. 
I'm fascinated by this era in history as my own grandfather served in the army during World War II. I knew very little of what was happening prior to the entrance of the United States into the war and I am intrigued to study more about this now. 
I highly recommend this book and I will personally am anxious to read more novels by Tracy Groot.
Disclaimer: I received a paperback copy of Maggie Bright from Tyndale Publishers as part of  the Tyndale Blog Network in exchange for my honest review. I was not required to write a positive review and did not receive any other compensation.