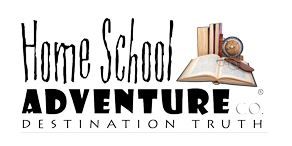 Home School Adventure Co. is one of my go-to companies for solid biblical teaching resources which are affordable. Their unique content is always refreshing and a nice break when we want something different from our usual resources. The opportunity to review Walking with the Waodani was a great one for our family. Although we have not been called to full-time overseas mission work we are passionate about missions and passionate about teaching our children about those who have come before and trail-blazed through unbelievable difficulties, leading the way for what we call modern missions today.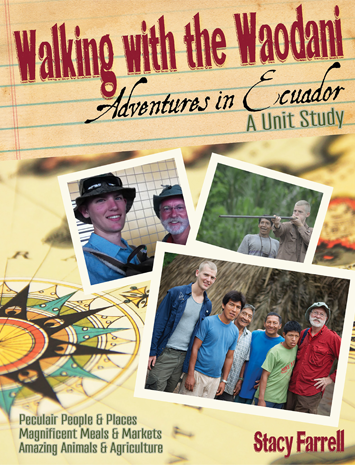 This unique study highlights the Waodani people now. I love this perspective because we get to hear about a first-hand account of a young man, Russel Green, and his journey to visit Ecuador and learn where the sacrifice of missionaries who walked the land before had taken this native tribe. While the target audience for this study is middle school, all of my children participated and they all enjoyed it! The girls and I worked alongside each other, but in addition to being an excellent collective-learning family study, I think it would also be appropriate for independent learners to complete on their own. 
We have previously learned about the missionaries martyred in 1956 and a little about their families who then went back to the tribes to tell them about the love of Christ. It had been a while though so we watched an animated retelling of this story. Because of the violent nature of what happened I felt it best to prepare my youngest as gently as possible. She still struggles with nightmares at times and while we do not want to soften the sacrifices made, this was a good way to introduce our learning time. I remember the first time I heard the story of Operation Auca when I was in college. I had just finished reading one of Elizabeth Elliot's books. I learned what happened to her husband, Jim, and his colleagues, and was deeply moved by the desire of their widows and children to come back to the place where their husband's were martyred to tell them about Jesus. These examples of faith are exactly who our children need to learn about during their studies as they are young. 
I love that this study shows the Waodani people currently and tells how many have come to find salvation through Christ. This study isn't only about this people group! We also learned a lot about Ecuador geographically, economically, and socially. The images in this study are absolutely stunning! I printed the work pages for my girls and we used my iPad to look at all the pictures. They are vibrant and enticing. More than once my girls asked if we could visit Ecuador just because the pictures were so beautiful!   
Agriculture, food, and animal life are also taught. I absolutely love how seamlessly all of this information is woven into the story of Operation Auca as well as the eventual salvation and growth of the church there. This is such an incredibly rich study with so much information! The information led my girls to ask more questions about the region and we did even more research on things that peaked their interest. There were a few, "Ew!" moments as they discovered what the indigenous people of the land ate, but it was a wonderful opportunity to talk about respecting other cultures and how missionaries must often sacrifice comforts and desires in order to take the gospel to unreached peoples.  Rose, my oldest daughter has a strong desire to serve overseas as a teacher. When I first told her what we were going to be studying her eyes lit up and she revealed a huge smile! While I know God may shape and even change this dream, we try to encourage her even now by giving her opportunities to learn about missions. This study was an absolute joy for her and she couldn't have been more eager. If you desire to include missions study in your homeschool this is a great unit study with which to begin!  
You can see a little more about the trip that led to this study here:
 You can read more from my Crewmates below!