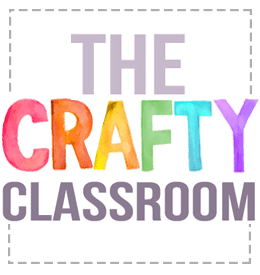 Summer is the time when I like to fill in the gaps. Sometimes it's things that are not covered as deeply as I like in our regular curriculum or things which I intentionally want to cover with all three girls together. This has been the summer for covering the location of the states and their capitals! While this is covered in what we normally use eventually, I have been waiting for Grace to be old enough to both participate and retain the information. I had already decided we would be working on this and was thrilled to be able to review the USA Activity Bundle from The Crafty Classroom.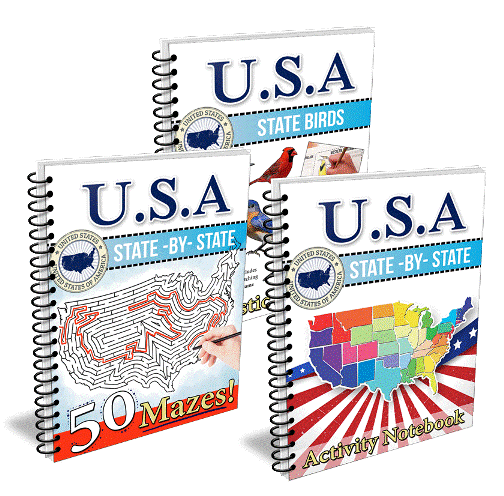 Included in this PDF download are activity pages for every state, a maze for every state, and state bird cards. Each activity page includes a little USA map to locate the state, a larger outline of the state flag, bird, and flower to color, and space to identify the state's abbreviation, number of being added to the union, nickname, state flower, state bird, and a place to write down facts. Wow! This is a ton of information on one piece of paper. It is orderly and neat, something I greatly appreciate. 
There is no set order for completion, so I decided to order the states by region, beginning with New England. I printed an entire set of states for each of the girls and organizing them by region was very easy as they are alphabetized. Each of the girls has an expensive United States road Atlas for kids I'd had tucked away for a while now. It was great for them to each have their own resource for this so they could find information for themselves. I had several other United States fact books as well.
After I gave each of the girls their state sheet we would look up the information for the state abbreviation, state number, nickname, state flower, state bird, and located the state on the mini map of the United States. The page suggests mapping the capital, rivers, lakes, and mountains on the larger outline of the map. I chose to focus on just the capital because that was one of my main goals. I loved how versatile and felxible I could have this set be! 
After identifying and recording the above mentioned facts, I read from the state fact books. These gave brief historical information as well as some fun and unique facts. I asked the girls to choose two facts that stuck out to them and they recorded those in the facts and notes section. When we finished a page we would slip it into a page protector and then in a small notebook I gave them to collect them all. They also found the mazes to be fun and they thought the bird cards were so fun! These were nice little additions that just added to the fun of what we were already doing.
I originally figured we would do one state a day this way, but when your kids beg you to do more work, it's really hard to day no! They found this to be very enjoyable and they are eagerly learning their states, their locations, and the capital of each one. I do realize my girls are already eager learners, but the reason is because of good quality resources, such as those from The Crafty Classroom. They have some other wonderful resources like Bible ABC Curriculum Notebook, Learn to R.E.A.D. Curriculum Notebook, How to Write a Paragraph, and others that my Crewmates have reviewed. Take a minute to browse the website as there are resources for all the subjects that look absolutely amazing!