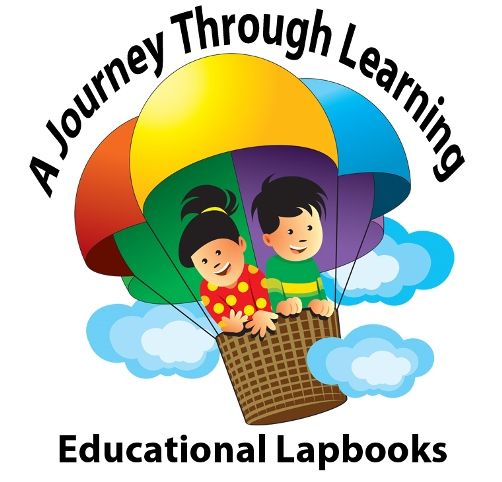 Our family follows a more literature rich style of learning. We love good books and that is where I am most comfortable teaching. Still, we like to experience new styles of learning. The girls especially like to try new things when they involve hands-on learning, which is exactly what The Greatest Inventors from A Journey Through Learning Lapbooks gave them!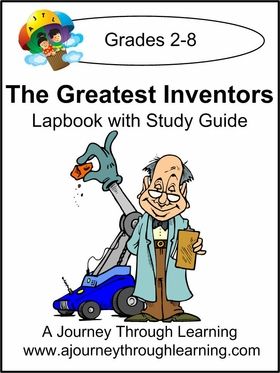 If you have never heard of lapbooks the best way I can describe it is the process of students recording and compiling their learned information into a scrapbook created with file folders. As the students study they record the information and include it in the lapbook. This style of learning is very creative, but in an orderly way.  
When I told them we would be using a lapbook they were thrilled! I prepared notebooks for them with the study material. There are many wonderful option resources listed for use to study. Many of the titles for this inventor study were already familiar to me and most are available at our local library. The extensive list of resources gives plenty of options for how in-depth you want your students to study. At the same time, the study material included is enough for a full learning experience. I chose to do the latter and allowed the girls to study further whichever inventors the wanted. 
Since all three girls are excellent readers, so I decided to try a traditional classroom trick. I had each of them take turns reading paragraphs from the research material. I had no idea how they would feel about this approach, but they seemed to love it! I love how well-researched and factual the material is, while at the same time being intriguing for my daughters.
After reading each selection the girls recorded the information where prompted and cut out the appropriate portion to include in their lapbooks. 
They glued and compiled their lapbooks eagerly! They also asked daily when it would be time to work through the study again, Grace especially. I think she loved it because to her it felt very grown up to learn this way. She is 7 and eagerly looking for opportunities to do more grown up things. To have the opportunity to learn alongside her older sisters really meant a lot to her. We don't do this all the time, so it was certainly a novelty!  
Although this is not our typical way to study, I was highly impressed with The Greatest Inventors. In all honesty I have shied away from lapbook studies because to me they appeared to be overwhelming to prepare and somewhat complicated to compile. I learned this to be the furthest thing from the truth! It took less than 30 minutes of preparation to print the research material and lapbook pieces as well as put together the 3 lapbooks. That is really very minimal effort. In addition my girls clearly enjoyed this method and that is the most important thing.  
No matter what you are studying you will be able to find a labpook from
A Journey Through Learning Lapbooks
to intrigue your kids. There is an incredible selection and the Review Crew had the opportunity to review some really great titles including:
And those are just a few of the available studies! 
 Check out what my Crewmates have to say!