Our girls have grown up learning what the Bible says about our purpose in life. We are to glorify God in all that we do and make every effort to tell others about the saving grace of Jesus Christ. Because this is a part of the culture of our family we talk often about creative way to tell others about salvation and they have participated in various outreach events at our church where this is the key goal. I told them about the opportunity to review the Gospel Tracts and Evangelism Tools Sampler Pack from Let the Little Children Come they were very excited!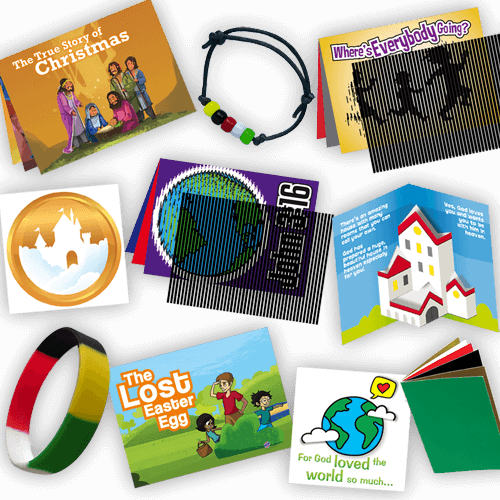 This wonderful sampler pack was a joy to explore! The girls had fun reading the various tracts and trying out the hands-on pieces. There are so many options available from this company, but more importantly, these are solid theologically. I appreciate that they are not frightening, but hopeful. Some gospel tracts, while well-meaning, can be so heavy that they produce more fear than understanding about the important decision of salvation for children. While tracts should be honest and truthful about our sinful state, if fear is the driving force for a child, they may miss the beauty of a personal relationship with the Lord.   
 Some of the tracts are 3D. This is a really neat one that Rose liked. The writing is clear and concise. Perfectly suited for children. The girls said they felt like they would be comfortable using these to share the message of salvation to someone on their own which also told me they understood what it said clearly.  
  Beth really liked the wordless book beads. They were already familiar with this particular tool of using colors to share the gospel because we have used it before in our children's services at various times. Beth said it was nice to be able to actually make something and she thought this would be a fun one to use.  
 This little hands-on tract was a hit with Grace. She liked how fun it was to manipulate and was easy to use to tell the story of salvation. (Rose is the one showing this because Grace was feeling a little shy!) I love that it takes the familiar verse of John 3:16 and illustrates in beautifully. I tried it out and it really is quite fun!  
Their absolute favorites were the animated tracts and I have to say, they were some of the coolest I've ever seen as well! As you slide a cover piece over the picture it looks as if it is moving. The message again was very clear, but so much more memorable because of this unique feature! As you can see there are many options from this wonderful company. These are great to hand out at fall-festivals or other community events in which your church may have the opportunity to participate. Whenever children are brought into your church you will have the opportunity to share the saving gospel message with them as well as their families. I encourage you to check out these unique tools for this purpose. Check out what my Crewmates have to say!