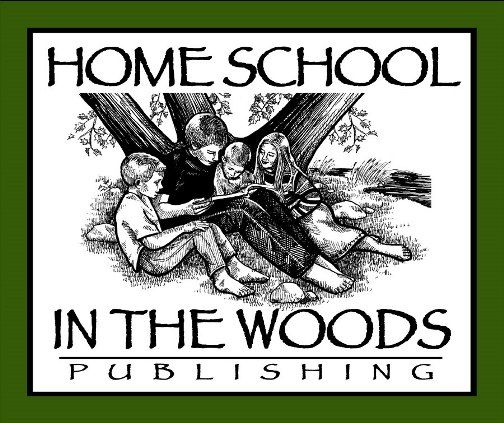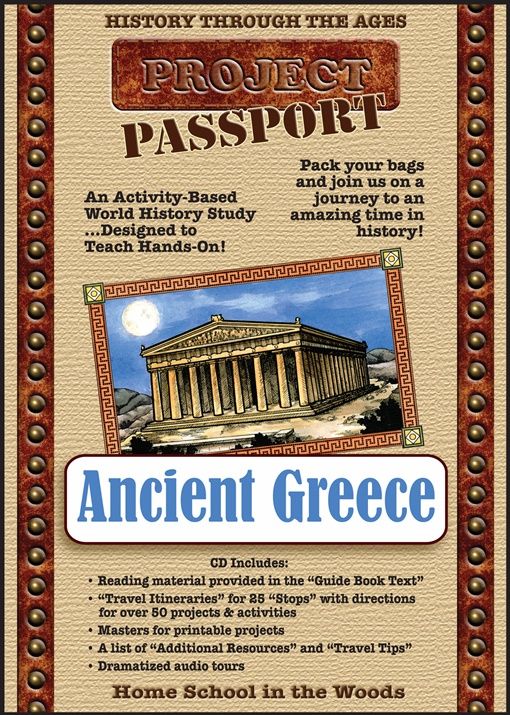 History can be one of the trickiest subjects to teach. Too much of the mundane and you will bore your little learners. Too much "fun" and they may miss the point of what they are learning. Home School in the Woods is an incredible company that takes history and makes it come alive. My daughters thoroughly enjoyed our chance to review HISTORY Through the Ages Project Passport World History Study: Ancient Greece! The entire History Through the Ages Project Passport World History Study series looks incredible. After working through a portion of the Ancient Greece study I can only imagine how much fun the other titles in the series will be.  My middle daughter, Beth, is studying Ancient Greece already this year so this was a fun way to add to what we have already been doing. My other two daughters were really excited to join in on the fun a well. The three girls are typically studying different levels of history tailored to their ability levels, but they enjoy the times we learn together. This particular study lends itself well to multi-level learning. The suggested levels are grades 3-8, but my 1st grader has thoroughly enjoyed our journey thus far! The premise of embarking on an actual journey through history with our imaginations is really fun. The study is broken into 25 "Stops" which you can pace as you like. This can easily be completed in the 8-12 weeks as suggested. There is so much packed into this study! In addition to the history there is an enormous amount of information detailing the daily lives of those who lived through it. You'll learn all about the culture, food, education, arts, literature, medical information, religion, agriculture, and more.  While traveling your way through Ancient Greece you will have the opportunity to try out recipes, create some amazing projects, and collect a scrapbook to remember your travels. I love that the scrapbook includes pages for a timeline. Home School in the Woods is well known for their amazing timeline products and once again they do not disappoint! Everything you need to get started is contained in the pdf files. It does take some time to print what you will need so it is a good idea to work ahead on this. The more time you spend on prep the smoother the study will go.There are so many fun projects to work through. Here were some of the girls' favorites. 
Beth is always interested in learning about the clothing of the time periods we are studying. When we travel to historical sights she will often choose a coloring book that shows lots of different historical clothing. She loved the activity where she colored a historical figure and layers of clothing. These are placed on clear transparency pages and attached so they could layer on top of the figures. She really enjoyed this because of how detailed the images are. This is something else you can expect from this wonderful company. The images are beautiful and so your kids will end up with amazing projects they will treasure far after they complete their studies!
 Little miss Grace drams of becoming a nurse. She was particularly interested in the medical history of the period. This turned into a little flip book that can be attached into their lap books. She enjoyed coloring as well as reading the information and how they relate to current medical practices. She is 7 and in first grade, but it was a simple project she could complete with little help and guidance from me.
 Rose has already studied through Ancient Greece so she was excited to explore some of the things we didn't delve into as deeply. One of her favorite projects was working on the family tree of Helen. This was a neat little flip page that also can be placed into the lap book. She did not need to spend a lot of time studying to complete it. Once the pages were printed she colored, cut, and pasted all while learning through the process.  The girls all agreed that their absolutely favorite part was the dramatized audio tours. They found them entertaining and humorous. We would get finished with one and they would beg to listen to another. We actually listened to the dramatizations more than once.  I asked the girls what they thought of this way of studying history. They all told me how much they enjoyed it and said it was fun to learn in such a different way. Learning is all about finding meaningful ways to make connections so what your kids learn sticks with them. Home School in the Woods has a hit with this fabulous program!  
    Check out this video to see even more of what you can expect!