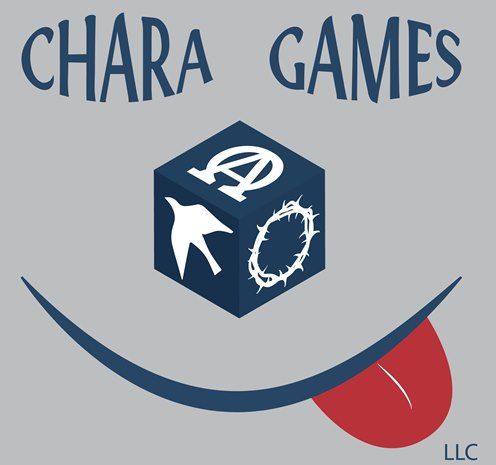 Our family really, really loves games. From before the girls could even speak they were sitting on our laps, or the laps of their grandparents, watching us play all variety of card, board, and strategy game and they have been participating as game players since they were each about 18 months old. They are always ready to play a new game, especially when they think it is more grown up! They were especially excited that their Grampy and Grammy were in town from Florida to try out Unauthorized from Chara Games.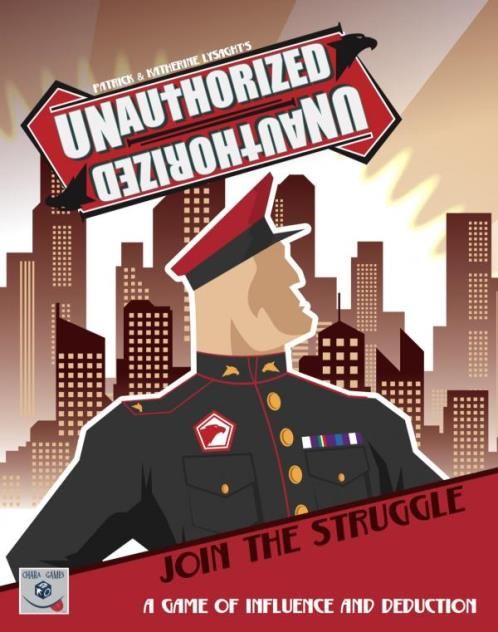 The premise of this compact card game is to role-play life for Christians in a country where Christians are persecuted. The rules are fairly straight forward, although there is a learning curve which is best worked through by actual game-play. It is also pretty short. All of the games we played took 30 minutes or less.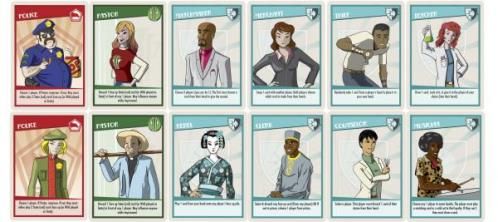 My in-laws came into town for an over-night visit on their way to visit more family, but they were here long enough to join in the fun! We played several times with all 7 of us! The fast-paced momentum kept all of us interested. Although recommended for 12 and up on the box, Grace (7) and Beth (10) both really enjoyed it. One of their favorite parts was choosing the character to be. Sometimes we did this randomly, but we also let them pick characters. Each of the character cards had a female side and a male side so each would work no matter who was using it.  
  My husband is excellent at rule-reading and then at providing subsequent explanations. So he played a mock round with himself to see how it all worked. This was a really great idea since we were playing with kids younger than the target age who may have been bored as they waited for us to understand the rules enough to explain them.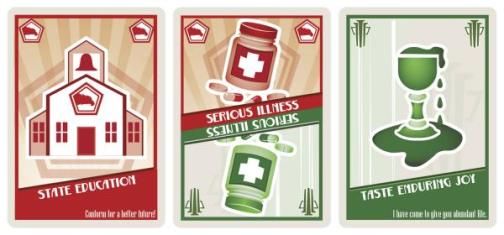 There is one designated pastor and one designated state policeman. They are on opposing sides and each is trying to gather the most support. Their loyalty is based upon how many of which color action cards they have. If the player has more green cards, they are on the pastor's side. If they have more red cards they are on the state's side. As each player has opportunities to play their cards or take actions they must act in the best interest of whichever side they are loyal. If they happen to have equal of each color they are considered neutral and may play in whichever way they want. Every action made is intended to help sway more people to be loyal to your own side.  
The goal is to be on the winning side whether that is the state or church. The side wins when they all the rounds have been played and they have the most people loyal to them. My girls of course always wanted to be on the church's side, but the adults understood they wanted to be on the winning side. We all felt like this was a fun game. It did take a couple of rounds to really get the hang of it, and Grace (the youngest) needed some guidance, but she did quite well on her own by the 3rd time we played! They also have asked to play it several more times. It is important to note that this is intended for 6 or more players. There are special rules so it can be played with 5. We did not try these, but basically one person takes on two separate roles and it could definitely work well with someone who understood the game fully.  
The girls and I have been having conversations about how to pray for people in these real-life situations. While this game is indeed quite fun, it has also provided wonderful opportunities to discuss more deeply some of the trials persecuted Christians face. We have friends serving in these nations and this was a great reminder to pray for them and to know exactly how to pray for them. It has also provided reflective moments that really caused us to pause and consider just how blessed we are in this nation and exactly how much we take these freedoms for granted.  I highly recommend this interactive and fun game. Be sure to click below and see what my Crewmates have to say!