I love the wonderful things technology allows. I can connect with family and friends around the world, I have answers to the random questions my children ask in a matter of seconds, and I have access to an amazing amount of resources as I homeschool my children. I even have the opportunity to teach my nephew and nieces piano lessons via video calls. That being said, we are incredibly cautious with our children and their use of technology. I'm well aware of the dangers and we limit their access tremendously. As Rose is getting older I want to give her the best tools available so she can  navigate the digital world in which she has grown up with ease and wisdom. Digital Savvy, an online course from CompuScholar, Inc., is exactly what I wanted and we were excited to have a chance to review it!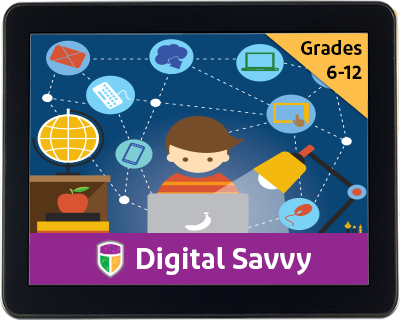 Rose is in 6th grade and I really think younger students would have a little trouble with this unless they were very interested or already showing an aptitude towards computers. Up until this course my daughter's only experience with technology has been restricted to using apps for games, typing instruction, and using a word processor for writing assignments. She easily started in with this course.  It is very easy to logon and get started for both the teacher and the students. If you never had much instruction with technology this is also a great course for adults! It is very similar to a course I took in college for my education degree called Technology for Educators. The best part is you can complete this course at your own pace from the comfort of your home! Online classes are incredibly convenient and with many classes are being offered online, this is a great beginning place.  
Rose did great completing the lessons. I really liked that there was a quiz at the end to test their retention of the material. She didn't always get a 100%, but we could easily go back and redo the lesson. I am sure that because she is on the younger end of the target age-range and the fact that she isn't as experienced with technology is the reason for her needing to go through a lesson more than one time. She did tell me the information was very clearly presented.  I asked what she thought about the course. She said, "Well, if I liked computers more, I think it would be great! I am learning a lot and it is easy to understand." The truth is, she isn't really interested in computers beyond games, but learning these skills is incredibly important. Thankfully, she understands this and was happy to work through the course.  
 I love that included in this course are protocols and safety. Kids need to informed of appropriate etiquette online as well as how to navigate social media. The reality is most young people have social media accounts without any understanding of how far-reaching they can actually be. As parents we try to teach our girls these things, but I think every parent knows it helps to have another voice teach these things to our kids. I personally think this program is so good I plan to have my other daughters complete this when they get old enough.  Two other great looking classes available are Web Design and Java Programming.