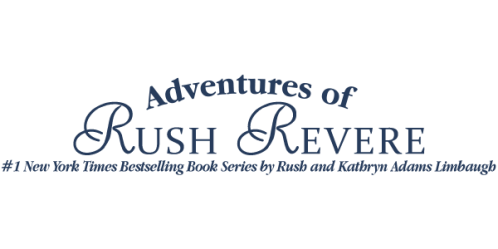 Our homeschool learning centers around and thrives upon living history books. Living history simply means the books we read are written in a story-like way that is much more engaging than a typical history textbook filled with facts and dates. Living history books focus on the people who lived and their stories more than the events of the times. As a result our girls absolutely love history. They enjoy going to historical sites and museums and will all tell you that history is one of their favorite things to study in their schooling. We are always on the lookout for new history titles which will engage their minds. The Adventures of Rush Revere Book Series from Adventures of Rush Revere #1 New York Times Bestselling Book Series by Rush and Kathryn Adams Limbaugh was recommended to us by another homeschooling family a while ago and we were very excited to have a chance to review the entire series!!!  
 It isn't often the girls get to read their own copy of the books we review and they were ecstatic to do so! Our summer learning still happens, but it is quite a bit more relaxed than the rest of the school year. Everyday the girls have a math assignment and a required 2 chapters of reading. This was assigned for their summer reading time and they were really excited! The writing style of these books is very personable and perfect for today's generation of kids. They are sprinkled with humor and because the characters time-travel lots of references to modern technology and current trends.  
I would say this series is written in a way that a typical 4th grade reader would enjoy them although they engaged all of my girls (and me) while reading! Even if your kids are not old enough to enjoy reading them on their own this series would make a great read-aloud series for your family. I appreciate that the authors spent time researching and really working to understand the time periods represented in the books.  
There are many wonderful illustrations scattered throughout the book. Some are cartoon-ish renderings of the characters, some are photographs, some are copies of historical documents, and some are paintings. The pages are beautifully created with a vintage feel and glossy finish. They are sturdy and will hold up well to many readings year after year.  Here is what my girls had to say… 
 Rose likes that the characters can time travel back in history. It was easy for her to read and they were good stories.  
 Beth likes that the books are funny and that the horse, Liberty, can talk. She also likes that Liberty clogs because she does that as well! She likes that some of the historical expectations which we have but aren't always right were corrected, like the colors of the Pilgrims clothes. 
 Grace, my outdoor reader, likes that the pictures are in color because a lot chapter books don't have pictures or they aren't in color. She really likes the horse and that she read the book about George Washington. He is one of her favorite people to learn about from history.  While I am not personally fan of the style of radio one of the authors is known for, I was incredibly pleased with just how well written and accurate these books are. I am an advocate for accuracy in history. Although presenting all the facts of the events must be tempered with discernment for the age of the audience, I do not want to teach my girls falsehoods or glossy versions of history. These titles are truthful and presents the facts that are appropriate for all ages. I highly recommend them to supplement your American history curriculum and encourage you to take a look at the website. There are many wonderfully fun and engaging things to see and do there!  Take a look at why my Crewmates had to say!