History is incredibly important to us and our homeschooling. Reliable history is vital! We want to make certain our girls are learning the facts, not a glossed-over story or an agenda-heavy, slanted viewpoint. At the same time, we want them to view history through a biblical lens. I have heard great things about Memoria Press, so I was very excited to give their American history texts a try. We had opportunity to review both The Story of the Thirteen Colonies & The Great Republic Set and 200 Questions About American History Set.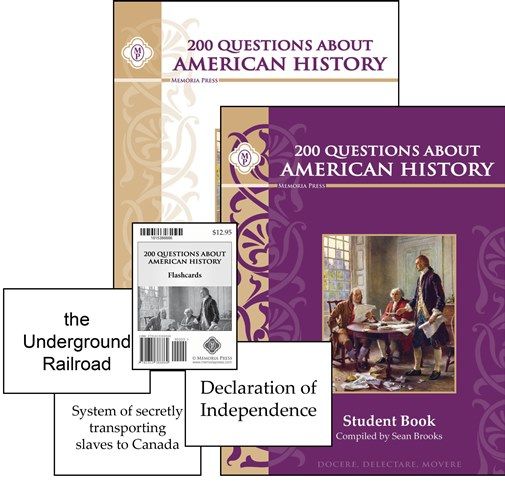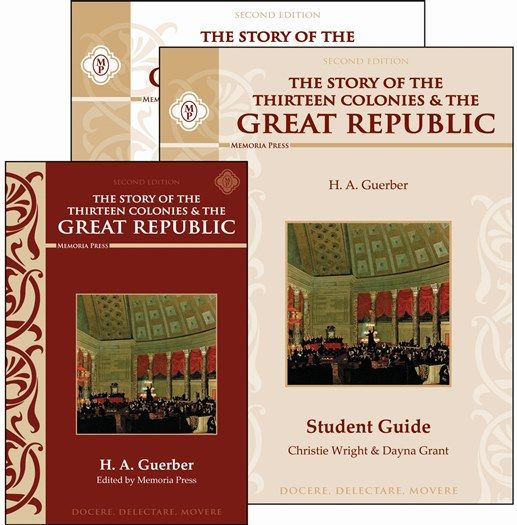 Although this is geared towards grades 5-8, I think it is very appropriate for younger elementary if the parent works with them. I used this most heavily with Grace who is in 1st grade technically, but working on a 2nd grade level and higher in every subject. She is reading on a 5th/6th grade level and I had already planned to begin studying American History with her. Her older sisters also listened in on the days I read aloud to her.
 I usually read the bite-size chapters aloud to her which took about 7 minutes. When she read on her own it took about 10 minutes and she fully comprehended what she read. Some of the historical names threw her a little bit, but I think we all face that! I like the style of writing. It feels very much in line with the living history style we like although Memoria Press is known for having a more classical education feel. This text reads in a story-like way which means it would work well for upper elementary independent learners. As we read Grace would ask more questions and wanted to find out more information. That by itself tells me this is an excellent choice for history. Anything that provides a natural desire to know more has my recommendation!  
 When I asked Grace what her favorite part was she squealed and said, "Looking up new words!" What she meant was completing the vocabulary assignment. After we read a chapter I would have her look up 3-4 words from the list in the workbook. She loves dictionaries anyway, so the fact that she was assigned to use one for school was great! Because she already reads the dictionary for fun (Yup…for fun!) she had no problem locating the words and understanding how alphabetical order works in the dictionary. There were only a few times when I needed to guide her a little. We would look at the different definitions and then find the word in chapter we read. Using context I would have her tell me which definition she thought fit best. She did great with this!
I also chose several questions for her to answer from the student book. We would discuss the answers and then she would write them down. This was a little harder for her merely because of her age. Forming sentences comes naturally but as she is still fine tuning her handwriting skills getting those words onto the page can be a little frustrating, which is why I did not have her do this solely on her own. However, after just a couple of units she was becoming more independent and needed less help from me in this area. So many times kids just need the opportunity to try something at a higher level and they surprise me!
After the first unit we began incorporating the flashcards and questions from the 200 questions about American History set. Being that we do not typically use a classical approach to learning I had no idea how this would go over. I shouldn't be surprised that Grace loved this, she loves everything! She had fun studying this way and then answering my questions. These little cards are very basic in design, but are a great way to review facts! 
   Grace learns best when she is speaking…she's our little chatterbox for certain! She would read herself the question and try to remember the answer, then double check. It only took her about 10 minutes with the cards which easily corresponded with each unit in The Story of the Thirteen Colonies and The Great Republic before she could recall them. Again, the historical names gave her pause, but once I taught her how to say the words she was fine.  
 This is Grace being, well, Grace! She is vibrant, wiggly, and energetic. She loves to learn, but is usually bouncing while doing so! She was working in her student book in the kitchen with me and being her usual fun self. I wanted to include this silly shot to show that even if you do not have a get-down-to-business, workbook kind of kid, you will want to look into this American history curriculum from Memoria Press. The chapters of the book are short enough to keep even the shortest attention span occupied and the questions are not just busy work. They are well-thought through and often allow for inference and good discussion. Grace loved this and asks to work on history first thing each morning. I love that there is an answer key included for the teacher! With three children in three different levels of everything teacher guides with answer keys are a huge help to my getting through the day with ease. I can move from one subject to the next without any difficulty at all. I highly recommend these programs and am now intrigued to explore other subjects offered by Memoria Press. Don't forget to check out what my Crew-mates had to say!