Quality entertainment we consider "safe" for our girls to enjoy is hard to come by these days. We feel the need to screen just about every form of media they encounter be it visual, audio, or in written form. There are only a handful of companies which we trust to always provide this safe entertainment we seek for our family. Although our first experience with Heirloom Audio Productions was only a few months ago, this wonderful company is absolutely at the top of that list. We anxiously awaited the arrival of Captain Bayley's Heir and were not at all disappointed!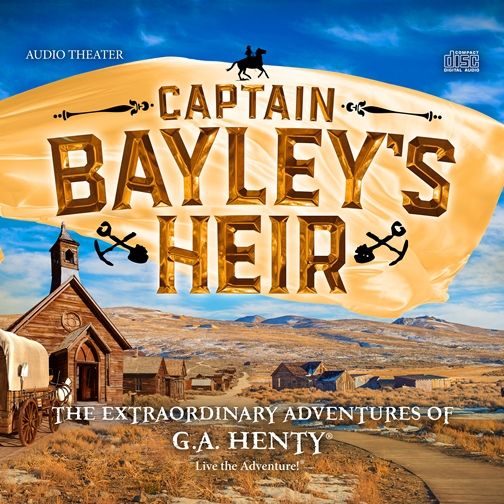 This wonderful story begins in London with the story of Frank, a school-boy accused of a dishonest act which he did not actually do. Fear leads him to feel trapped in his circumstances with the only opportunity to redeem his good reputation being to feel to America. His life in America is very different from that in London. His desire is to make his fortune, believing that will be the only way to earn back his reputation. Throughout the story Frank is faced with the reality that his life matters and that God's grace will abound. The ending was surprise to me and I love that his family finds him and they are reunited in the end as well as the fact that Frank's name was indeed cleared of the accusations!  We listened to this wonderful story on our way to and from a field trip to the zoo. The 90 minute journey there and back went by very quickly with this as our entertainment! All five of us completely enjoyed the story. We listen to a lot of audio drama while driving, but not many that are this long and it captivated our attention thoroughly. Many of the voice talents were recognizable from other audio dramas and movies or television. The acting was superb and I absolutely love the background music! In addition to the audio is the opportunity to participate in the Live the Adventure Club. There are sooooo many amazing resources with this! The study guide is an amazing tool which can be used to make this part of your school-day and be incredibly educational. There are questions to help your children listen well and deeper, more thought provoking questions to help them with inference and predictions while listening. These are great skills which will translate into reading assignments as well. The vocabulary list is really helpful since these are older stories with rich words rarely used these days in modern conversation and writing. Also some of the historical references which may be unfamiliar are covered, like cobblestone.  
  I really like that the guide explored the historical context of Manifest Destiny, the idea that the settlement of western America was predestined because of the country's political and economic power. I really appreciate an honest discussion of this with our kids and the fact that the drama also delves into an understanding that the tribal nations native to this country were not to blame for all of the bloodiness of the past. Honest discussions about what really happened between Americans and the tribes is needed rather than imbalanced teaching. Having my girls listen to entertainment that strives to be fair and true to history is very important to us.   As I mentioned before I loved the background music. I'm a huge fan of sounds tracks and one of the cool things about the Live the Adventure Club is that you can listen to the soundtrack! There are also three study guide options which are simple to follow, yet very deep and will provide a great spring-board for discussion.  Don't forget to check out what my Crewmates had to say!